It's no secret that I'm obsessed with all things home decor. I also love gifting home items because there are so many ways to personalize the items to make it perfect for whoever you're shopping for. If you're not sure where to start, you can never go wrong with candles, mugs, and throws. If you're looking to give something a little bit more unique, you could give candlesticks, coffee table books, or some classy Christmas decor. And if you want to give something really thoughtful, personalize a linen with their name or city! What home decor items do you love to gift?!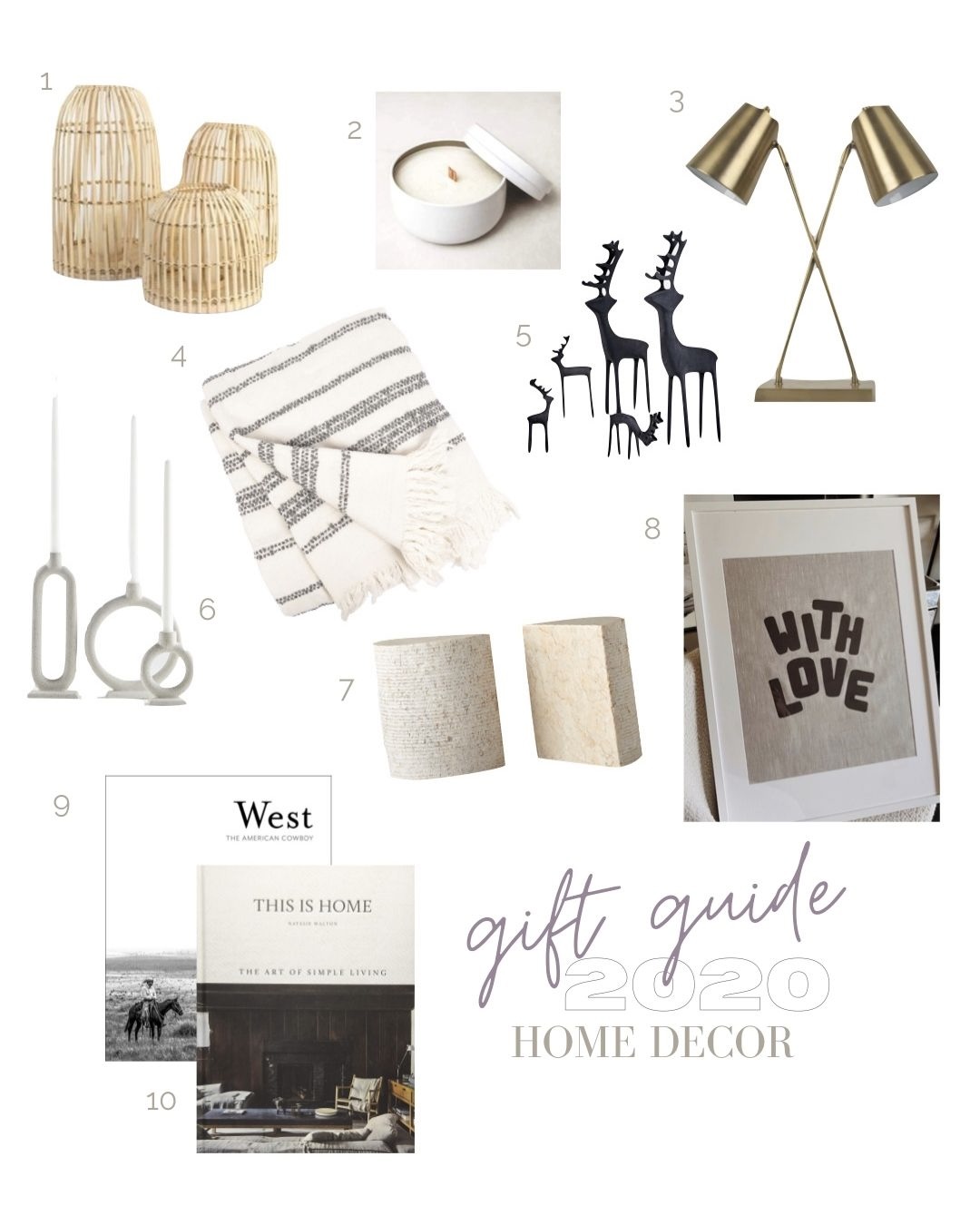 1 – Lulu and Georgia Lanterns – I love mixing textures to make for a layered feel in my home. These candle holders would add the perfect natural element as a centerpiece or accent piece.
2 – Natural Wicks Candle – Candles will forever be one of my go-to gifts. You can never have too many! This is one of the small businesses y'all told me about! They have so many fragrances to choose from and every candle is all natural, non-toxic, and clean-burning. @naturalwicks_
3 – Gold lamp – Lighting is so important to set the tone for a room and is a really fun way to add personality to your decor. This would be great for anyone who is working from home!
4 – Throw Blanket – Throws are a MUST for being cozy in the winter. Love this simple and on-trend style. It's on sale, too!
5 – Zinc Reindeer – I love simple and classic Christmas decor! These reindeer are modern yet timeless. If you're looking for a hostess gift or a gift for someone who loves to decorate for the holidays, these would be great!
6 – Candlesticks – Okay these are SO cute. Love the varying shapes and heights and can picture these being so cute styled on shelves, on an entry table, a coffee table, or as part of a centerpiece.
7 – Bookends – Another great piece for styling shelves or entry tables! There are so many cute styles out there but I really love these marble column style ones. Would be fun to pair these with items 9 and 10!
8 – Custom Lettering on Linen – If you want to give a thoughtful gift, customized presents are the way to go. This Etsy shop makes custom linens with names, cities, states, and more. I absolutely love this idea for a gift! And it's a small business so all the more reason to buy from GallesShop! @gallesshop
9 & 10 – Coffee table books (West and This Is Home) – my favorite way to style a space!! You truly can't have too many of these and they can start to add up so this would be the perfect thing to give as a gift! There are so many beautiful neutral books that your friends and family will be sure to love. If you are looking for more options, check out the "Coffee Table Decor" section on my Amazon storefront for all of the ones I have purchased!