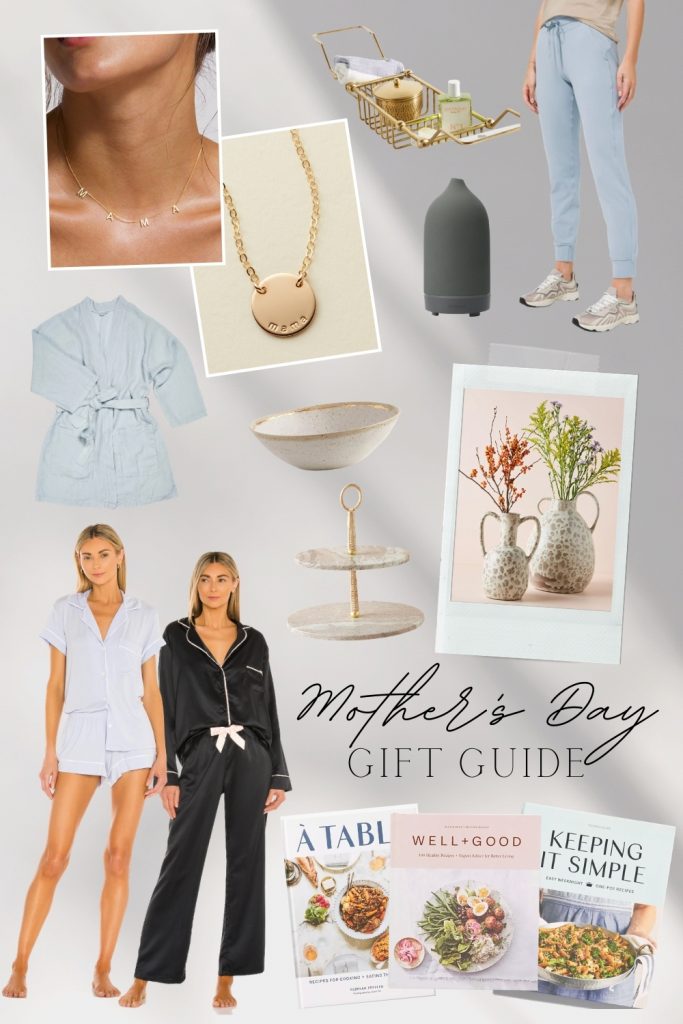 Mama Necklace & Mama Pendant Necklace: These would be the perfect gift for a new mom or a mom who loves wearing dainty jewelry. I also love the idea of gifting jewelry with a special birthstone or personalizing the names!

Bath Caddy: I have this bath caddy and it's the best! It looks so cute and it can hold quite a few products. This would be cute to pair with some bath oils or salts!
Diffuser: Essential oils have so many benefits and would make a great gift along with a diffuser because you can personalize the oils to what that person needs. For example, lavender, bergamot, and lemongrass are good for stress relief, which I'm sure all moms could use! 

Joggers: The perfect gift for lounging at home or for on-the-go, active moms! Lots of colors to choose from and you could pair it with a cute workout top if you are looking to pair the joggers with something else.

Linen Robe: I love robes so much and they make the best gifts! The Brooklinen linen robe is one of my favorites.
Vase: You can never have too many vases. Flowers are such a go-to for Mother's Day, why not gift them in a special vase so the gift can last much longer.

Serving Bowl: For the mom in your life who loves to host and/or cook… I love this serving bowl! It's special yet timeless. 
Serving Stand: Another great gift for someone who loves to host, this serving stand is so pretty and unique! I love the mix of marble, rattan, and brass. 
Pajamas: I love having a nice set of pajamas but a lot of times PJ's are one of those things you don't want to buy for yourself. A comfortable and cute pajama set is always a good gift! 

Cookbooks: Whether the mom in your life actually likes to cook or just enjoys having aesthetically pleasing cookbooks to decorate the kitchen, one of these cookbooks would make a great gift. You could pair it with another kitchen item like some of the serveware I linked earlier, this dutch oven, special cooking spices/rubs, or tea towels.