I'm beyond blessed to have gotten pregnant within a year and am aware there are so many women out there who's struggle I cannot begin to understand. With that said, so many of you asked about our journey so I wanted to share our story, my fears, and ultimately what I found helpful throughout our personal journey. I've always tried to be very open about our journey to getting pregnant and although it didn't take us an abnormal amount of time, the whole process really opened my eyes to the struggle that many women and families face to get pregnant and how emotionally tolling it can be when TTC.
Prior to dating Chris- I think it started in my mid 20's- I had this worry that I would be unable to have children. I don't know if anyone else has ever felt this but I imagine when it comes to any dream in life, it's normal to fear that perhaps the one thing you feel is most a part of your purpose in life, might not happen for you. The kind of fear and anxiety that can run away with your joy and run fast. Uhg.
Alright so here's our story. I'll start from the beginning. On October 25th 2019, Chris and I married and although we were excited to start a family, we decided we wanted to enjoy some time together before trying for baby.  A few months later, in March 2020, I went off of birth control. My husband is 36 and I'm 30 so I wasn't necessarily feeling rushed, but it was definitely something that both of us wanted and felt very ready for. We ended up finding out I was pregnant about seven months later.
In the beginning, as I mentioned, we weren't actively 'trying' but we definitely were excited about the idea of getting pregnant. Most of my friends who have children seemed to get pregnant the day they stopped taking the pill and without much thought. I spent so much of my life thinking that was the way getting pregnant worked but also simultaneously had this fear that it wouldn't work that way for me.. does this make any sense? Anxiety is weird haha.  After four to five months of trying, worry started to enter my mind, not quite understanding why I wasn't pregnant. I couldn't help but compare my situation with those of my friends who it happened very easily for, a lot of the time unplanned. Mentally, this was a really hard part of the journey. I'm not sure if other people have experienced this, but as a woman, I assumed there was something wrong with me. Chris would see how disappointed and worried I would get and I could tell he felt really bad. And as hard as trying to conceive is on the woman, I just want to take a moment to acknowledge the impact it has on husbands as well. I'm so thankful for Chris. He is such an eternal optimist and I admire his faith so much – he truly was my rock through the emotional rollercoaster of it all.
It was around this point, in July, that my doctor recommended I start using ovulation strips. She didn't seem to echo my worry. My cycles were always very normal (a little bit on the short side, but consistent and reliable) so she suggested I start there. At this point, I had already been using apps/gadgets like the Flo Period Tracker and the Ava bracelet to track my cycle and ovulation (or when I might be ovulating), so using ovulation strips was just a better, more accurate way of determining ovulation. I really liked the Clear Blue Digital Ovulation Strips – I tried so many brands and these were the easiest to read. Some of them are hard to tell how dark the second line is, so even though these are a little more expensive, I personally liked them the most because they indicate ovulation very legibly.
Around the same time that I started using these strips, I was introduced to a company called Proov. They make at home PdG tests to test your progesterone metabolite levels after what would be your ovulation and make sure that you did indeed ovulate based on those levels. The test also indicates whether or not your levels would support implantation and therefore support a pregnancy. You can also have your progesterone tested at the doctor, but these seemed to be easier as they are at home and 99% accurate. They gave me a code for y'all so if you are interested you can use my code 'LAUREN25' for 25% off Proov PdG Kits and Proov Predict + Confirm.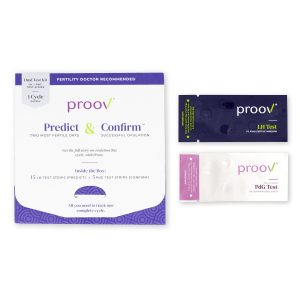 It took a couple months of doing these two things, but I think what really helped was getting answers in those two months of 'yes, you are ovulating, and yes, your progesterone is where it needs to be'. That confirmation calmed my mind, stress, and worry and it allowed me to let go and say, 'okay, there's nothing wrong with my body or so it appears – I'm eating healthy and exercising and I really need to leave this to God. The second I gave it to Jesus, my anxiety and attempt to control the situation left, and guess what, I got pregnant!
I found out I was pregnant towards the end of September 2020. We obviously had been trying, but this month in particular I had a weird feeling that I was pregnant. At the same time, I was very mistrusting of this sudden 'gut feeling' because at that point I had taken 200 pregnancy tests within six months with no positive test (ok maybe not that many but felt like it haha). I had one pregnancy test left in my bathroom so I took it (looking back I must have been about 3 1/2 weeks) and it came back with a second, but very faint, pink line.  It was so faint that I wasn't sure if it was accurate, so after telling Chris, who also did not trust this very faint second pink line, we went to the grocery store and bought a digital test. For me, digital tests are the way to go because they are very clear and don't leave a lot to interpretation, which naturally, I like. After taking the digital test it clearly read the words "pregnant". I was shocked but still didn't want to get my hopes up. After so many let downs, negative tests, and knowing my mom had miscarriages between all 4 children, I couldn't help but be cautious. I hate that my anxiety robbed the joy of that first positive test, but as time went on, and especially after my first doctor appointment, I was finally able to let go of my anxiety. My joy has only gotten deeper as it becomes more real and as I get further along in the pregnancy I feel more comfortable fully allowing myself to celebrate and connect with this baby boy. Oh yeah, it's a boy!!! 
As I write this I am so incredibly thankful to be pregnant, but I simultaneously can't stop thinking about all the women out there who have experienced a much longer struggle than I ever did and are dealing with infertility and pregnancy loss. It's an exhausting and emotional journey and a lot of those experiences I'll never fully understand. Thank you to every single one of you who has bravely shared your story with me on Instagram. Pregnancy truly is a miracle and I'll never take that for granted. We prayed every day for months and obviously our prayer was answered, but I know there are a lot of unanswered prayers out there. So many women who are quietly struggling and I'm thinking about every single one of you. I pray for hope and peace for everyone reading this struggling. Miracles happen every single day 💙