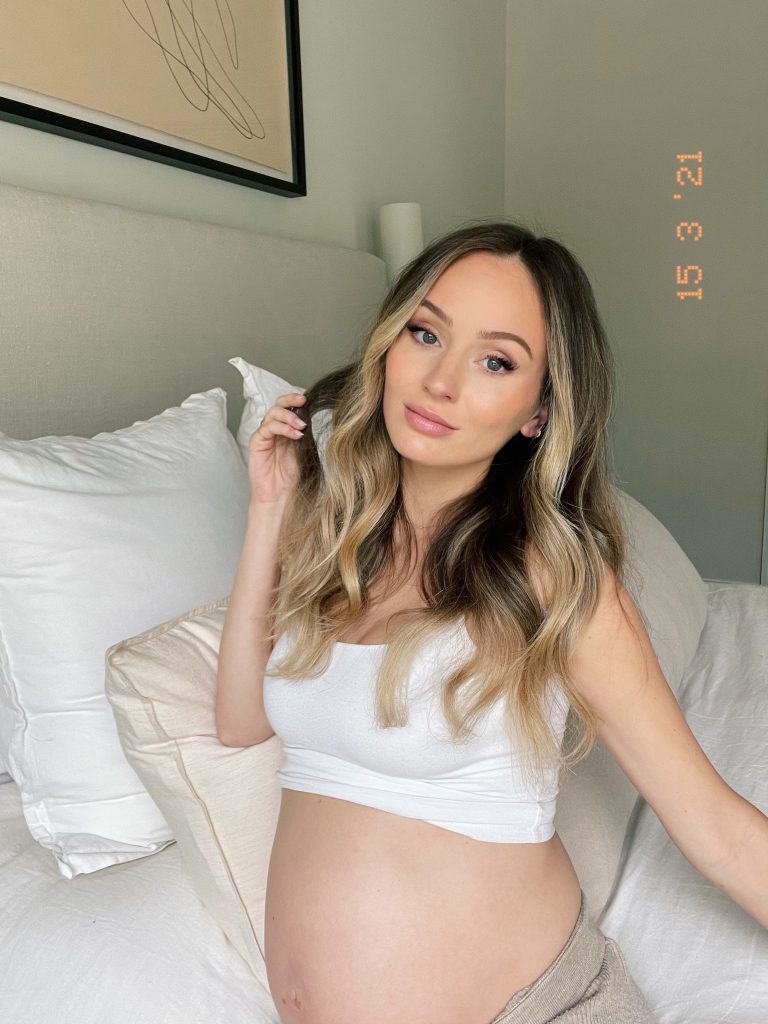 When did you start popping?
I thought my belly was so pronounced at 20 weeks but now looking back it looks so small. The picture above was a couple of months ago and compared to now, my belly wasn't big at all. In the last month or so I would say my belly has grown a ton. And in a couple of pictures I posted last week a lot of you said it looked like he's dropped!
What are your biggest pregnancy cravings?
Fruit, smoothies, and iced tea lemonades. Chris's pregnancy craving is Häagen-Dazs ice cream hahaha.
Have you had any food aversions?
I have not been loving seafood and normally I am a big Thai food lover but it's sounded so gross so I haven't had it once during pregnancy.
Do you have stretch marks? What products do you use to prevent stretch marks?
So far I haven't seen any on my belly but I feel like I will know for sure post-baby once my stomach isn't so stretched? I already had stretch marks on my butt that I've had since I was a teen so pregnancy might add to that, I'm not sure. And I have been using the Summer Fridays Belly Balm throughout the entire pregnancy.
What's the baby's name?
So many people asked about the name and I can't wait to share! We will announce once he's born 🙂
Books you read to prepare?
I tried to read several from all different points of view. Some of my favorites were Expecting Better, Mayo Clinic Guide to a Healthy Pregnancy, and The Mindful Mom-to-Be. 

What has your workout schedule been?
We try to take the dogs on long walks 4-5 days a week but if I'm being honest doing any other type of workout has not sounded fun or appealing so I haven't done it! I think it's important to do what feels right for you with this – but I haven't felt the pressure to "stay fit" while pregnant.
Favorite pregnancy buys?
Almost everything I've purchased is for post-pregnancy but my favorite pregnancy buys were stretchy dresses and compression socks. Especially entering the third trimester, the socks help achy feet and legs so much!

When is your due date?
June 10th! I know so many people who have delivered early/late… When do y'all think he will come?!
Who do you think he will look like?
Chris thinks he already looks like my dad so he's guessing he will look like me. I think he'll be a mix of both of us.
What are your fears? Are you nervous about delivering? 
To be honest I am scared of delivery. I think because I've obviously never done it before and there are so many ways it could go, you just don't know. I'm also terrified of the epidural… I know everyone says it's a Godsend but it sounds so painful. I asked Chris to answer the fears part of this one too and he said he isn't really fearful but as a husband his main prayer is for a healthy baby and for it to be as painless as possible for me.
What are you planning to wear to the hospital? 
I haven't really thought about this but I just want to be comfy! I will let y'all know what I end up in.
Why did you take your post down about your feelings about being pregnant on IG?
If you missed the story I was just sharing about how hard it can be to have people send you negative messages about decisions you do/don't make, how you look, or making assumptions that aren't true. I have a hard time being vulnerable with my close friends, let alone with the entire world, so I have an internal struggle of wanting to put myself out there but also knowing that doing so opens me up to more criticism. I also never want a post like that to come across as me feeling bad for myself or feeling like a victim because that is not the case. I know there are people dealing with way worse struggles so sometimes I feel guilty for feeling down. I go back and forth on this because I want to share as much as possible with you guys and 99% of you are the kindest, most supportive people who I LOVE sharing with… but sometimes the 1% can really get to you and I think the story I shared was just to remind people to be kind and remember that we are all human ❤️
Will you be doing a full nursery reveal?
Yes, very soon! Just waiting on all of the photos but I'm so excited with the way it turned out and feel so much better/more prepared having it completed.
What are you packing in your hospital bag?
This is another one that I am not totally sure of yet. I am going to work on packing the bag this week and after birth I will do a blog post with everything I packed, what I wished I had packed, etc! 
I hope this is helpful for y'all! If you have more questions you can comment or DM me and I will do a part 2 post to answer them. Thank you all for the sweet messages you guys have sent me about Baby Lane lately. They don't go unnoticed and I'm so grateful for each of you!