Probably my most asked question/most requested blog post is a full skincare routine so I finally got around to compiling all of it in one place for y'all. My skincare routine is one of my favorite parts of the day because it feels so relaxing and luxurious! I've noticed a big difference in my skin with these products and hope y'all love them too! Comment any questions you have and I will answer as many as I can! 
Disclosure: This is not a sponsored post. Some links may be affiliate links meaning I make commissions on sales with no extra expense to you. All opinions are my own! <3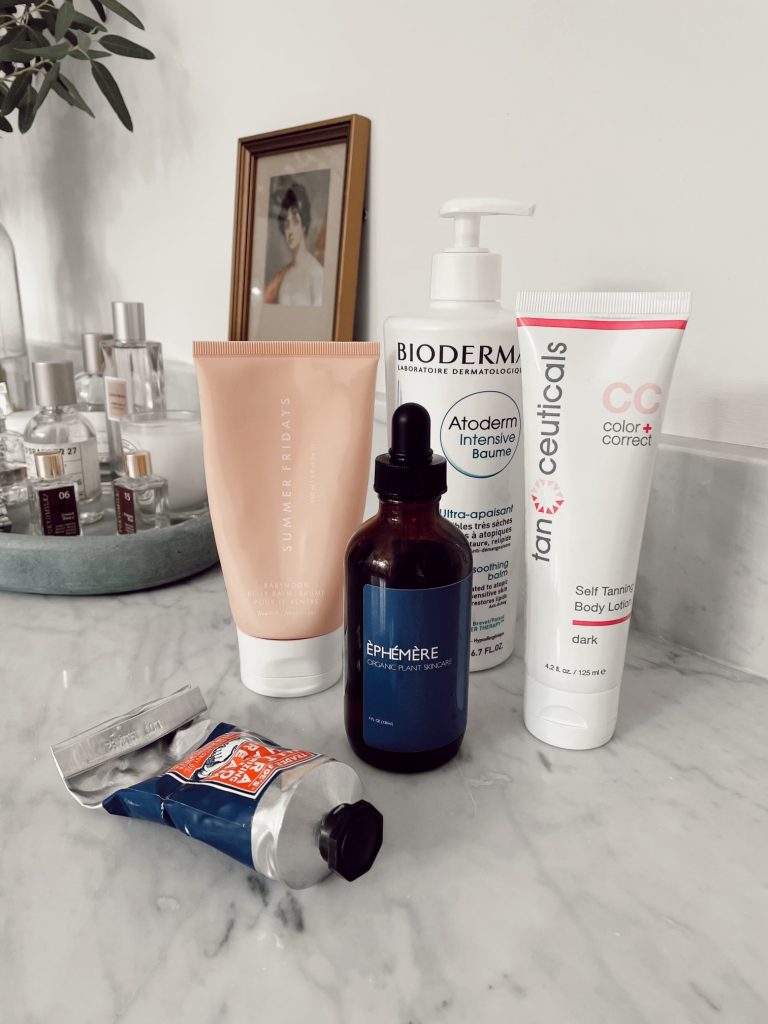 Body:
Summer Friday's Belly Balm: I love this balm! Its super hydrating and has kept my skin super hydrated.
Ephemere Oil: Apply this first to my belly, lower back, and booty, then layer belly balm on top. Smells like Hawaii. It has an orange tint which was kind of weird to me at first so just make sure not to get on your clothes.
Bioderma Soothing Balm: Apply this all over my body
Tanceuticals Self Tanning Lotion: Use this when needed for a little glow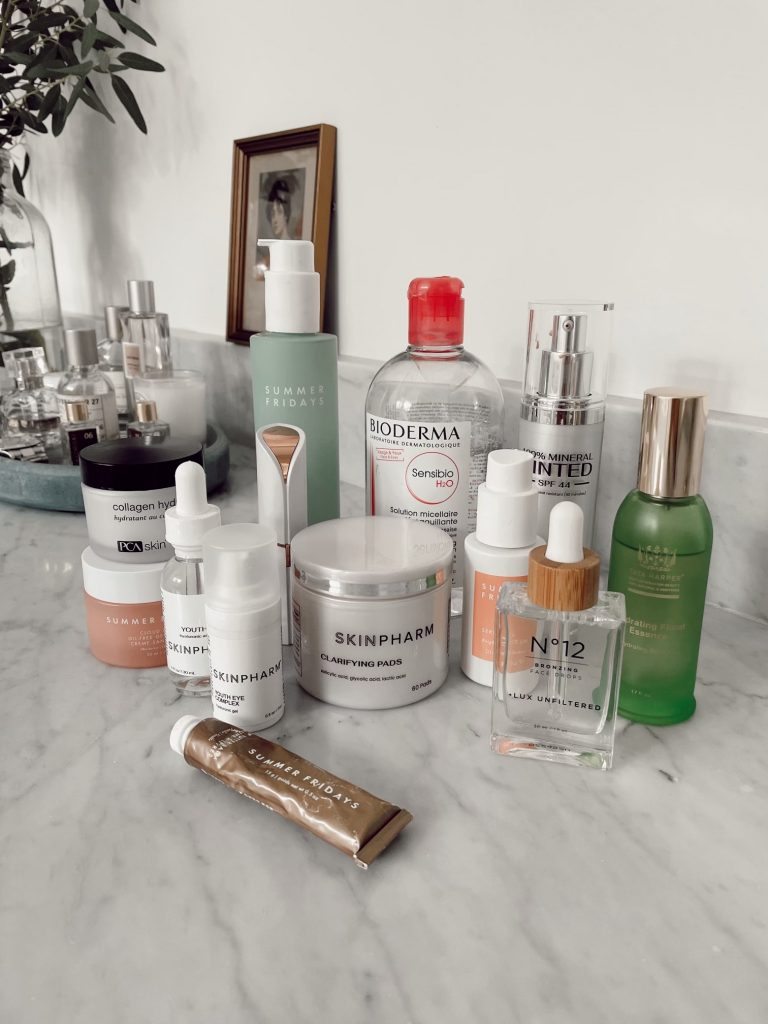 Face:
Bioderma Cleansing water: Removes Makeup super gently and effectively. I'll use this before cleansing if I wore any makeup that day.
Summer Fridays Amino Gel Cleanser: I love how gentle and hydrating this cleanser is.
Skin Pharm Clarifying Pads: My skin has been a little more acne prone during pregnancy, although it has cleared up tremendously thanks to these pads and never wearing a mask with makeup on. These pads help brighten skin, tighten pores, and combat breakouts. They contain Glycolic, Lactic and Salicylic acids. Glycolic & Lactic are considered safe to use during pregnancy. Doctors recommended using products containing salicylic acid no stronger than 2 percent once or twice a day at most. These pads don't contain more than that and I use at night 2-3 times a week.
Sunday Riley Good Genes: If you're not acne prone and want to steer clear of salicylic acid this is a really great product to minimize pores and fine lines and target hyperpigmentation
Skin Pharm Youth Serum: This serum contains peptides and hyaluronic to plump skin. Helps retain moisture and sooth sensitive skin.
Summer Fridays Cloud Dew Gel Cream: Oil free and super hydrating. This is one of my fave moisturizers of all time. I use morning and night.
PCA Skin Collagen Hydrating Cream: I'll use this cream at night if my skin is feeling super dry and in need of a heavier dose of moisture.
Skin Pharm Eye Sculpt: I use this morning and night, I love how hydrating and lightweight it is. 
Lux Unfiltered Bronzing Face Drops: Love these. Easy to apply evenly for the most natural looking, gradual glow.
Tanceuticals Face Serum: If you don't like to use tanning drops try this serum! Super easy to use and gives you a really pretty, natural tan. Plus it has Hyaluronic Acid and Vitamin C in it!
Tata Harper Hydrating mist: Great to spray at the end of morning or evening routine for extra hydration. Also can use as a setting spray after applying makeup or throughout the day to refresh and hydrate your skin.
Summer Fridays Vitamin C: Love this vitamin C so much. If you're not using a C serum definitely hop on that train because it's helped even my skin out so much. It doesn't make me break out at all and has made my skin far more even and glowy. Helps fight dark spots and hyperpigmentation.
Skin Pharm tinted Mineral SPF: All day every single day. Protects skin from sun damage. You always want to use a daily SPF, but especially when using Vitamin C as it can make your skin more sensitive to the sun.
Flawless Touch Hair Remover: I haven't been getting facials / dermaplaning so this little gadget has helped me take care of all the unwanted peach fuzz at home. I do it about once a month. Helps products absorb so much better and makeup goes on much smoother.

Face masks:
Detox In a Jar by Tula: I love using this when my skin needs a good exfoliation because it's not harsh but it leaves your skin feeling super smooth.
Primally Pure Plumping Mask: One of my favorite calming/hydrating masks.
Summer Friday's Overtime Mask: I use this mask when my skin feels dull or textured. It's free of fragrance, silicone, and gluten, vegan, and cruelty-free.